Percept is a Sydney creative agency. Yes, we are award winning designers, but that doesn't mean a great deal.
What matters to us is our clients' happiness and the prosperity of their businesses as the result of our work.
AWARD WINNING DESIGNERS OR A RESULTS FOCUSED SYDNEY CREATIVE AGENCY?
Our industry is based on results, with every Sydney creative agency, including Percept, being measured by the effectiveness of their work. Clients shouldn't care if they're partnering with award winning designers, their only concern should be who will benefit their company's performance.
Throughout our history as a leading Sydney creative agency, Percept has constantly achieved outcomes which have improved the businesses that have worked with us.
To us, the main thing that matters is that we can demonstrate a successful track-record of proven results. The fact that we've shown continual growth as a Sydney creative agency since starting in back in 1997, is testament to this success.
The key to our longevity has been a focus on strategic, creative solutions, that aim to earn a return on our clients' investment. At Sydney creative agency, Percept, this is what we're all about.
Call + 61 2 9544 3200
YOU CAN RELY ON PERCEPT
When selecting the best Sydney creative agency to partner with, it's good to know who's capable of walking the walk.
Percept Brand Design understands that this is an important choice that will significantly impact your business, so we believe you should be able to make a fully informed decision.
Rather than just showing our award winning design work and a few selected highlights, we deliberately display a large and varied portfolio of graphic design work on our website. This way, you can be confident you're assessing our performance, to see whether design agency, Percept, is up to the standard you expect.
From branding to website design or packaging design to communication design, if you're looking for a quality Sydney creative agency, Percept are here to help. Take some time to go through our work and judge for yourself.
TRUST US, YOU'LL BE IN GOOD COMPANY
Among the top design agencies in Sydney, Percept has been honoured to work with many well recognised companies and brands, yet we consider each and every one of our clients to be of the highest importance.
Whether you have a start-up business or work for a Fortune 500 company, you'll get the full Percept creative agency experience every time.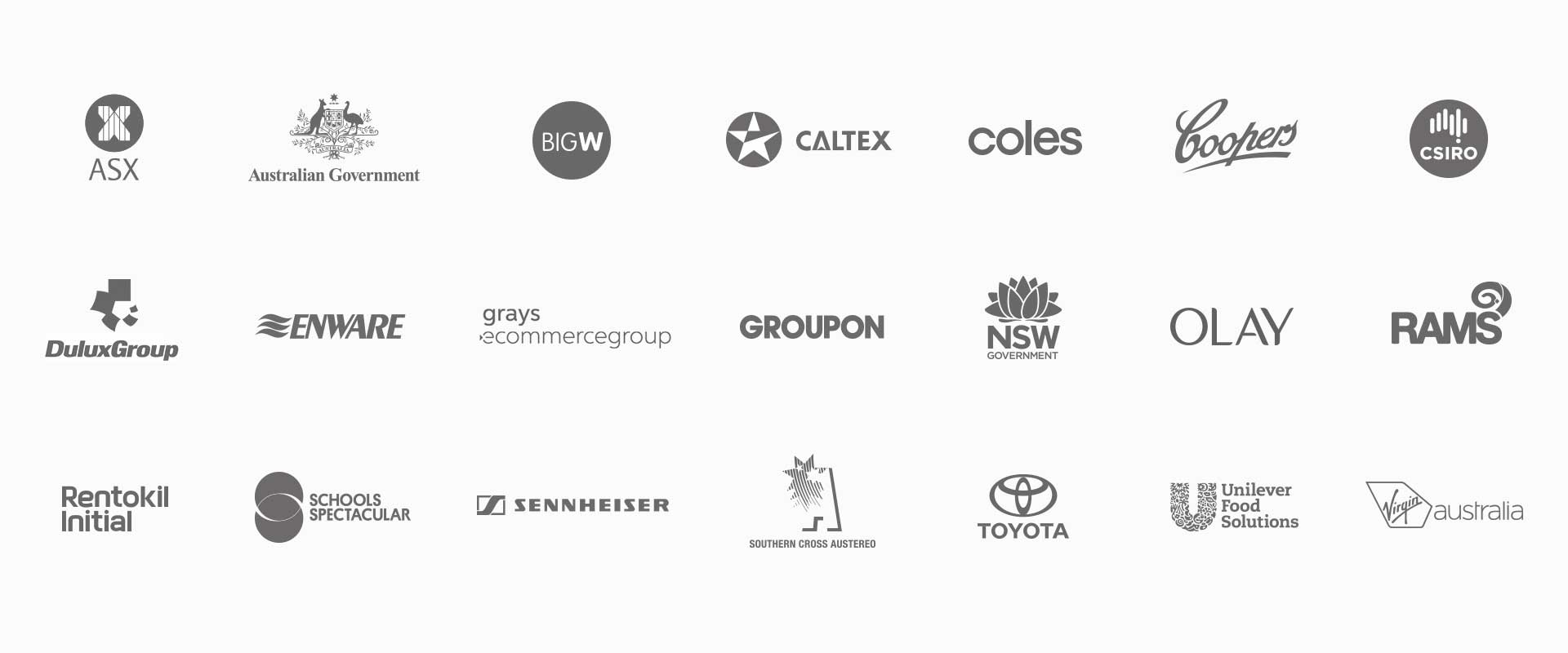 CLIENT TESTIMONIALS
Gold Medal Snacks
Dealing with Percept is easy as they are true professionals. The process flows smoothly and quickly to a gratifying outcome. Our new packaging design has given us the opportunity to grow our sales beyond 20% annually.
– Frank Anggadi
Toyota
As a design agency, Percept's quality of work is excellent! All staff we have dealings with are friendly and they provide excellent service.
– Jeff Steer
BDO
We had a challenge for a creative agency that was a big ask and had almost impossible timeframes. Percept followed our brief closely and provided a solution that was an ideal fit for our requirements. I was very impressed with Percept's ability to understand, quickly grasp our creative requirements, and deliver a sterling result.
– Janet Glasper
Sennheiser
Thanks to the amazing work by Sydney creative agency, Percept, we've had the nod from our largest Australian retailer for an in-store execution to be rolled-out nationally. This is better than anything we've achieved to date… Well done team Percept!
– Martin Ireland
AWARD WINNING DESIGNERS
Industry Recognition
As well as being award winning designers, Percept is a Sydney creative agency who has enjoyed plenty of exposure and support from industry peers:
Over 100 graphic design and branding projects published in various international journals.
Our graphic design agency has featured articles in magazines such as Packaging News, AdNews, Desktop and Marketing Magazine.
Percept is a design agency that is annually showcased in the Desktop Design Directory, a publication listing Australia's best design agencies. Our work is also regularly featured on leading industry platforms such as World Brand Design Society, Behance and Dribbble, known for showcasing the world's top design agencies and creative agencies, which Percept is proud to be mentioned amongst.
Percept is recognised as a Top 25 Creative Agency on DesignRush.
Percept is recognised as a Top 25 Branding Agency on DesignRush.
Percept is ranked in the Top 100 Branding Agencies Worldwide by Ad World Masters.
Percept is ranked number 2 in Leonfresh's Top 10 Graphic Design and Web Development Agencies in Sydney.
Percept is listed at number 2 in Report Garden's Top Design and Digital Ad Agencies in Sydney.
Percept has been judged one of the Top 3 Advertising Agencies in Sydney by Three Best Rated.
Percept is ranked in the Top 50 Ad Agencies Worldwide according to Ranked Agency Database.
Percept is considered one of the Top 50 Most Influential Designers in Asia by ADP.
Percept is rated in The Top 3 Agencies by Top Digital Agency who have selected more than 20 of our branding, packaging design, website design and communication design case studies for publication that feature the Percept design agency Sydney.
Percept is recognised by the email marketing community as featured in the Campaign Monitor Gallery.
Percept is validated as a top company in the best Packaging Design agencies on DesignRush.
Recently, DesignRush has listed brand agency, Percept, in their Top Branding Agencies of January 2021; Top Web Design Companies; Top Creative Marketing Companies; and Best Logo Design Companies (PEO companies).
Additionally, Percept have had many project features in the packaging design industry's The Dieline, Packaging of the World, The World Packaging Design Society, Australian Labels and Packaging and Inside FMCG.
Our founder, Lewis Jenkins, has also been awarded Australian CEO Of The Year by APAC Insider.
Numerous appearances such as guest speaking for industry events, judging in design competitions, pundits for radio interviews and industry experts at education institutions.
COMMERCIAL PROSPERITY FOR OUR CLIENTS
While Percept are lucky enough to be award winning designers, our creative agency always focuses on design solutions that will benefit our clients' businesses.
For a design agency such as Percept to be acknowledged within the industry feels great, but we believe our highest achievements come with our clients' successes. Knowing that the work of our creative agency helps them to prosper is the best reward of all.
COMPETITIVE EDGE
We believe that by choosing to partner with Sydney creative agency, Percept, your company will gain that competitive advantage.
INTERESTED?
PERCEPT – Sydney Creative Agency
Award Winning Designers
Call + 61 2 9544 3200